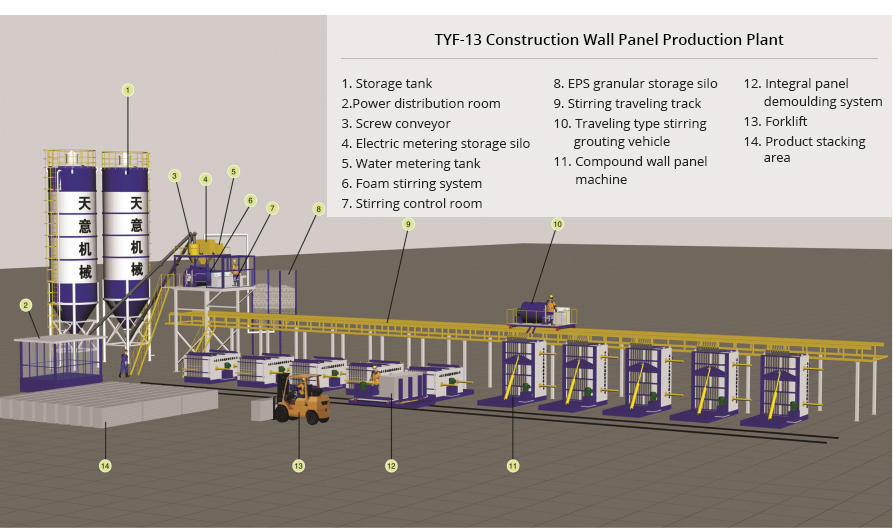 Description
TYF-13 construction wall panel production plant is mainly used to produce various specifications of GRC lightweight wall panels and magnesite wall panels. The suitable materials include cement, sand, fly ash, magnesite, ceramsite and EPS polystyrene particles. Cement can be cured in totally sealed pressure environment, making the hydration reaction more ideal and thus getting higher strength.
This production line adopts PLC control system during the processes from batching, stirring, pumping to demoulding, ensuring the precise batching and uniform stirring. Besides, the labor cost is reduced and the production efficiency is improved.
Patent number: ZL201320012681.4
Specifications of produced wall panels
One-time molding quantity
Thickness
Width
Length
20
75mm
610mm
2440/3000mm
20
90mm
16
120mm
12
150mm

Note: The above dimensions are normal ones. TANY can provide customized production lines according to your requirements for special wall panel sizes.
Main equipment
| | |
| --- | --- |
| Model | TYF13 |
| Overall dimension | 2990L×3050W×1880H mm |
| Power of vibration system | 0.75 kW |
| Power of hydraulic system | 3 kW |
| Hydraulic working pressure | 8 MPa |
| Maximum hydraulic working pressure | 16 MPa |
| Hydraulic oil tank volume | 60 L |
| Structural components | Host machine, hydraulic system, power system, heating system, vibration system, molding battens |
| | |
| --- | --- |
| Total area | 3500*2900mm |
| Stirring volume | 2000L |
| Stirring speed | 32.5r/min |
| Particle diameter | < 8mm |
| Powder feeding pneumatic butterfly valve | DN300 |
| Stirring period | 10-15min |
| Screw conveying power | 11kw*2 |
Pumping pressure in theory
High pressure
0.5 Mpa
Low pressure
0.4 Mpa
Transport capacity in theory
High pressure
5 Mpa
Low pressure
9.4 Mpa
Max. transport distance
Horizontal
300 mm
Vertical
120 mm
Main motor power
7.5 kW
Hopper volume
2m³
Loading height
1000 mm
Hydraulic oil tank volume
60 L
Distribution valve form
Ball valve
Main Machine Weight
500kg
Frame size: L×W×H
1785×960×1700mm
| | |
| --- | --- |
| Model | TY-13 |
| Overall dimension | 4500L×4600W×1050H mm |
| Total power | 7 kW |
| Demoulding motor power | 5.5 kW |
| Travel motor power | 1.5 kW |
| Hydraulic system motor power | 4 kW |
| Hydraulic working pressure | 10 Mpa |
| Maximum hydraulic working pressure | 16 Mpa |
| Stacking platform | 4500L×2300W mm |
Index
construction partition wall, precast wall panel, wall production line, interior wall machines