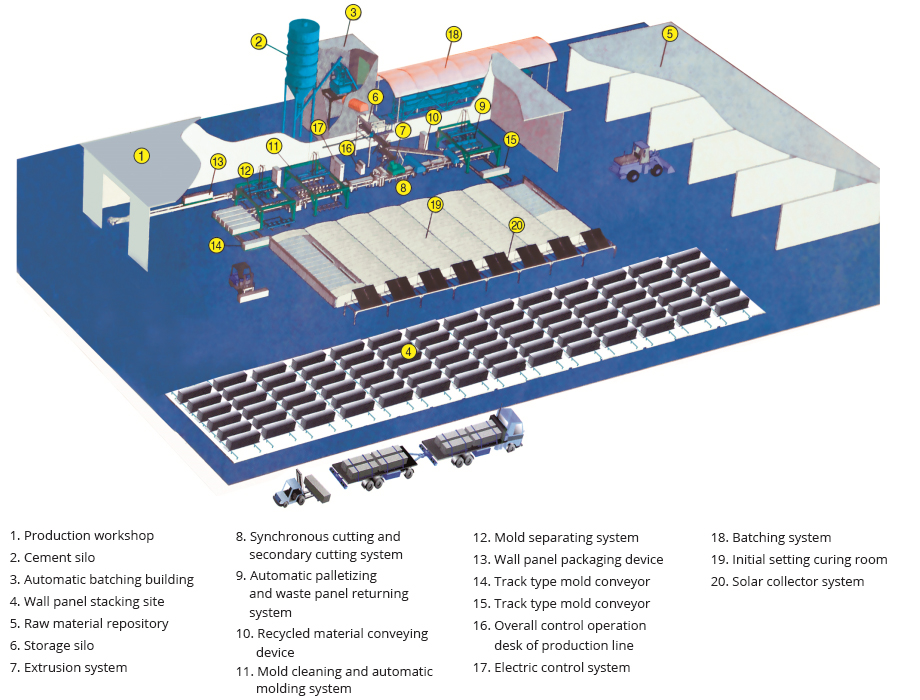 Description
TYJ16 construction extruded wall panel production plant adopts harsh mixture with low water-cement ratio and after extrusion hollow wall panels with high strength and high density are obtained. This kind of wall panels can be widely used in frame structure or steel structure buildings.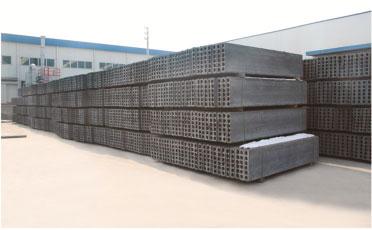 Available raw materials for TYJ16 production plant include various solid construction wastes, industrial slag, fly ash, plant straw and shale. Therefore, the lightweight wall panels produced are new environmentally friendly, energy saving and waste utilizing construction materials. They conform to construction module so the standardization, serialization, and generalization of production can be realized. Dry construction can be carried out so that the construction efficiency can be improved by over 3 times compared with that using block and brick wall panels.
Patent number: ZL201320443148.3
Main parameters
Average power
≤45 kw
Board delivery speed
2.8 m/min
Number of single work shift workers
3-5
Hourly output
80 m²
Annual light wall panel output
300000 m²
Wall panel size
Length
2.4-3.3 m
Width
600 mm
Thickness
90, 100, 120 mm
Wall panel quality
Conform to JG3063-1999 standard
Features of TYJ16 construction extruded wall panel production plant
The host machine is stationary and the whole production line is of compact structure and high automation, contributing to high production efficiency and good product consistency.
Wall panel materials are simultaneously extruded and vibrated for continuous and automatic molding, which can ensure the high density and precise overall dimension of wall panels. Then initial setting cure can be carried out after extrusion.
Slabs can be moved conveniently and the site can be flexibly used with high utilization efficiency.
The molding section realizes the screw extrusion of materials by frequency control. The central controller can adjust and control the density of ash panel molds, realizing the continuous and automatic line production of panels.
Main equipment
Advantages of extruded wall panels
Environmentally green: The raw materials are solid industrial wastes such as grain slag, fly ash, furnace slag and ceramsite and the cementing material is cement. The products are inorganic materials that are harmless to human health and environment. Besides, there is no pollution during the production process. Therefore, extruded wall panels are environmentally green materials.
Lightweight: The weight of extruded wall panels can be reduced by about 50% compared with that of traditionally used common bricks and lime sand bricks.
High strength: The compression strength is above 5 MPa.
Low shrinkage value: Drying shrinkage value is no more than 0.6 mm/m.
Thermal and sound insulation: Taking wall panel with specification of 90×600×2800mm as example, the panel has 7 holes and the porosity can reach 34%, contributing to good thermal insulation and sound insulation effect.
Fire and moisture proof: The cementing material is cement which is a hydraulic product showing so good water resistant performance that no peeling happens.
High construction efficiency: Large specification range of wall panels can be customized and those of special dimension can be cut, jointed and assembled on site to complete the construction. The wall panel surface is highly flat and silt ash is not necessary. Moreover, the panels can be sawed, drilled and opened holes, making the pipeline embedding convenient. Thus using this wall panel can shorten construction time and save cycle cost.
Significant economic benefits: The most prominent feature of this product is its light weight, which can reduce the overall loading of buildings, lower the construction cost and increase the living area.
Index
construction partition wall, precast wall panel, wall production line, interior wall machines