Description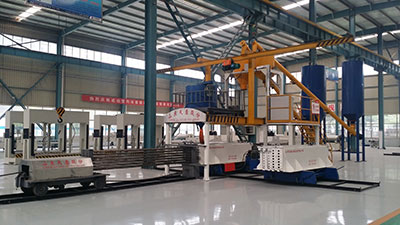 TYS-08 gypsum wall panel manufacturing machine can use natural gypsum, desulfurization gypsum or phosphogypsum to produce water-resistant and high-strength gypsum hollow wall panels and gypsum bricks. The manufacturing technology and formulation can solve the technical problems that like gypsum products show high volumetric weight, low strength, poor water and moisture proof performance.
TYS-08 gypsum wall panel manufacturing machine is independently designed and manufactured by TANY. It adopts hydraulic mold opening and closing method. At least 4 wall panels with adjustable thickness can be produced one time. The whole line can produce wall panels of 300~900 m2 and the annual output is 200,000~300,000 m2.
This machine has obtained national patent and has been proved to be the international first by international novelty search.
Patent number: ZL 200720021200.0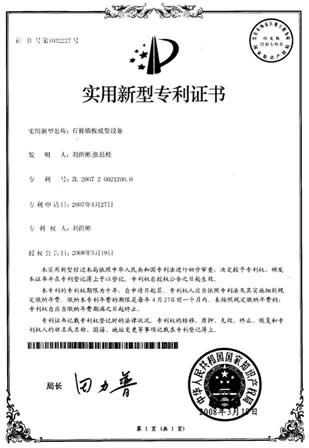 Production flow
Material feeding
Metering
Stirring
Material discharging
Molding
Demoulding
Offline packaging and stacking
Specifications of produced wall panels
| | |
| --- | --- |
| Thickness | 90mm/120mm |
| Width | 600mm |
| Length | Adjustable within 3000mm |
Main Equipment:
Molding machine
4 pieces of wall panels or more can be molded one time. The mould car can move automatically and the raw materials can be automatically measured, which can not only decrease the labor intensity but also ensure the quality of wall panels.
This machine can be used for multiple purposes. According to the customized requirements, one machine can produce length adjustable wall panels of 60#, 90#, 120#,150# and 180# with the error close to zero. The wall panel products show high flatness.

View Parameters

Gypsum stirring system
TANY company provides technical formulation of water-resistant and high-strength gypsum bricks for customers' projects. By using large stirring system to stir uniformly, the produced gypsum wall panels are durable and not easy to deform.

View Parameters

Tube pulling system
Tube rotating, inserting and removing can be completed synchronously and core tubes can be automatically cleaned.
To improve security, this machine is equipped with alarm system and automatic tube pulling can be achieved after final set.

View Parameters
| | |
| --- | --- |
| Dimension | 4004×2540×1246mm |
| Total power | 5.2kw |
| Speed | 2.1m/min |
| | |
| --- | --- |
| Stirring shaft speed | 200-300rpm |
| Unloading height | 1700mm |
| | |
| --- | --- |
| Tube pulling motor power | 3kw |
| Hoisting motor power | 4.5kw |
| Tube rotating motor power | 1.5kw |
Advantages of gypsum wall panels
Gypsum wall panels are made of main materials of natural gypsum, desulfurization gypsum and phosphogypsum compounded with various inorganic materials. They are generally used as interior partition wall panels which can save steel and cement, increase usable area, decrease engineering cost, and can also reduce building weight and improve the seismic resistance.
Gypsum wall panels show the properties of light weight, high strength, fire resistance, thermal and sound insulation.
The wall panels can be sawed and planed and are not limited by height, so it's easy for installation. In addition, this can also reduce labor tensity, decrease wet masonry and accelerate the construction.
The wall panels contain no harmful element. They have breathing function and can adjust the indoor humidity.
As the substitute products of clay brick, gypsum wall panel is one kind of the most ideal new construction materials.
Index
construction partition wall, precast wall panel, wall production line, interior wall machines