Recommended application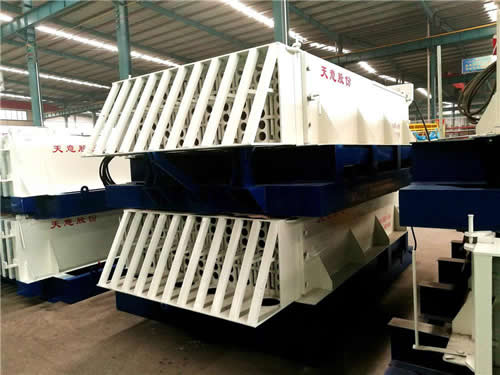 TY08 prestressed wall panel machine is mainly used to produce prestressed interior and exterior wall panels, including compound wall panels with two-side calcium silicate board and solid or hollow wall panels without two-side calcium silicate board.
This machine adopts hydraulic mold opening and closing method for 3 sides, which is highly automatic. 10 pieces of wall panels can be molded one time and the designed annual output is 80,000m2 every machine.
Technical parameters
Overall dimension
3730L×2500W×1200H mm
Heating system motor power
18 kW
Vibration system motor power
0.75 kW
Hydraulic system motor power
3 kW
Hydraulic working pressure
8 MPa
Maximum hydraulic working pressure
16 MPa
Hydraulic oil tank volume
60L
Structural components
Host machine, hydraulic system, power system,
heating system, vibration system, core tubes
Features of TY08 prestressed wall panel machine
It is designed with automatic temperature control function and it can adopt three heating methods including electric heating, hot water heating and steam heating. This can largely shorten the moulding time of wall panels, improving the production capacity of equipment.
The mould opening and closing system adopts hydraulic method, which can lower labor tensity.
The mesh cloth is unfolded through mould baffle and then tightened through secondary net equipment to ensure that the smoothness of terminal product panels conforms to construction requirements.
This machine can precisely position the mold dimension, ensuring the levelness and verticality of products.
TY08 wall panel machine is equipped with vibration system and the whole machine can vibrate slightly to increase the density of raw material slurry.
The mold baffle is a whole, which is convenient for the assembly.
The mould is one-time formed on concave-convex surfaces, which can increase the utilization rate of raw materials and show higher mechanization degree.
Specifications of produced wall panels

(1) Lightweight solid compound wall panel
One-time molding quantity
Thickness
Width
Length
10
75mm
610mm
2440mm/3000mm
10
90mm
8
120mm
6
150mm
(2) Lightweight hollow wall panel
One-time molding quantity
Core tube diameter
Core tube quantity
Thickness
Width
Length
10
Φ38mm
90
75mm
600/610mm
Adjustable 
within 3000mm
10
Φ52mm
70
90mm
8
Φ74mm
40
120mm
6
Φ52mm
84
150mm

Note: The above dimensions are normal ones. TANY can provide customized production lines according to your requirements for special wall panel sizes.
Index
partition wall, exterior wall panel, interior wall panel, architectural panel