Description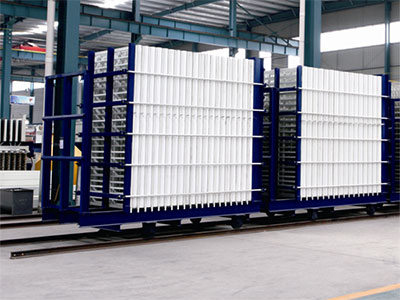 TYF-01 vertical precast wall panel machine is applicable for the lot production of calcium silicate board sandwich compound wall panel and over 40 pieces can be molded one time. Besides, it can be used to produce wall panels of different specifications. It adopts vertical design so that the occupation land area is smaller. Moreover, this machine shows higher efficiency and higher yield. Therefore, it can save total investment cost, leading to high cost performance.

The battens and grilles of the machine adopt thick aluminum alloy material, which is sturdy and durable, so that the operation of whole machine is more stable and reliable.

Patent number: ZL1320442842.

Component equipment

Technical parameters

(1) Specifications of produced wall panels
| | | | | |
| --- | --- | --- | --- | --- |
| Thickness(mm) | Width(mm) | Length(mm) | Qty(pcs/set) | Area(m²/set) |
| 60 | 610 | 2440/3000 | 58 | 86.3 |
| 75 | 610 | 2440/3000 | 50 | 74.4 |
| 90 | 610 | 2440/3000 | 42 | 62.5 |
| 120 | 610 | 2440/3000 | 34 | 50.6 |
| 150 | 610 | 2440/3000 | 28 | 41.6 |
| 180 | 610 | 2440/3000 | 24 | 35.7 |
(2) Equipment parameters
| | |
| --- | --- |
| Overall dimension | 3590L×1470W×3450H mm |
| Vibration system motor power | 1.5 kW |
| Structural components | Host machine, vibration system, molding battens |
Advantages of new lightweight compound wall panel
This is a kind of lightweight, energy saving and eco-friendly compound wall panel material. It's formed with thin glass fiber cement or calcium silicate board acting as panel and lightweight core materials such as polymer cement, polystyrene foaming particles and fly ash working as fillers.
Core material used polystyrene particles combine strongly with cement sticks. They are distributed uniformly in sandwich panel, making the cement mortar that stick them form honeycomb structure which has optimal force decomposition. In addition, the impact resistant performance of the wall panel is largely improved and the weight is reduced. Meantime, lightweight compound wall panel shows outstanding comprehensive properties.
Light and thin: Calcium silicate board wall panel is over10 times lighter than clay solid brick, and also lighter than hollow block. Besides, the panel is so thin that the indoor usable area can be increased by more than 8%~10%.
Good thermal insulation property: Compound foaming panel forms lots of density bubbles inside during production process, leading to thermal conductivity of only 0.12 W/mk and thermal resistance of 2.00, which can greatly decrease electricity and coal cost.
Good sound insulation property: This panel contains closed micropores inside, which can absorb noise and efficiently obstruct the sound transmission by over 40 dB.
Ease of installation and processing: Calcium silicate board panel can be sawed, nailed, drilled and freely cut. So the building structure can be freely created.
Quick construction: Due to the light weight of the panel, large quantities of beam-columns and foundation loads are not necessary to work as support and dry construction can be carried out. Therefore this can largely reduce construction waste. Besides, the construction process can be over 6 times quicker than that using block wall, decreasing the project cost by 20%.
Good surface decoration performance: Due to the high flatness of the panel surface, it can be directly sprayed or pasted with wallpaper and wall tiles after seam filling.
Environmental protection: It doesn't contain any poisonous and harmful substances and it can fully utilize wastes.
Index
partition wall, exterior wall panel, interior wall panel, architectural panel