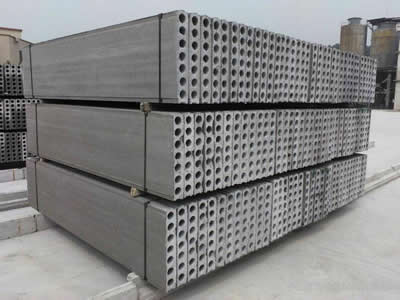 GRC lightweight wall panel is mainly made of early strength cement and fly ash. Certain amount of nanoscale vacuum agent is added to foam the cement to form bread-like honeycomb structure inside the panel. Using air to replace the lightweight fillers such as perlite and ceramsite can lower the material cost and also contribute to thermal and sound insulation.
Common GRC wall panels include GRC partition wall panels, fly ash foaming cement partition wall panels, lightweight concrete partition wall panels, silicon and magnesium aerated cement partition wall panels, aerated wire-mesh partition wall panels and fire door sandwich partition wall panels.
Advantages
Good market prospect: GRC wall panel is a new non-load bearing wall panel. This project can save a lot of land and energy and can also use waste effectively, so it has good market prospects and competitive advantages.
Good properties: Although GRC wall panel is lightweight, it has high strength and its also moisture-proof, fire-proof and sound-proof , which can meet a variety of property requirements of construction materials.
High economic benefits: Compared with traditional brick wall, GRC wall panel project needs less investment but produce higher economic benefits.