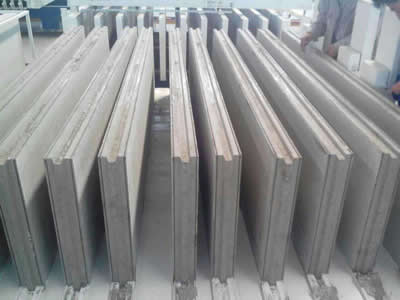 This material has water-proof, moisture-proof and freeze-thaw resistant properties that meet Chinese national standards and it doesn't contain any poisonous and harmful substances. In addition, this material shows great seismic performance, so it can be applied into not only low-rise buildings but also high-rise buildings, soft soil geological and beach buildings.
Advantages
Light and thin: Calcium silicate board wall panel is over 10 times lighter than clay solid brick, and also lighter than hollow block. Besides, the panel is so thin that the indoor usable area can be increased by more than 8%~10%.
Good thermal insulation property: Composite foam panel contains lots of density bubbles inside, leading to thermal conductivity of only 0.12 W/mk and thermal resistance of 2.00, which can greatly decrease electricity and coal cost.
Good sound insulation property: This panel contains closed micropores inside, which can absorb noise and efficiently obstruct the sound transmission by over 40 dB.
Ease of installation and processing: Calcium silicate board panel can be sawed, nailed, drilled and freely cut. So the building structure can be freely created.
Quick construction: Due to the light weight of the panel, large quantities of beam-columns and foundation loads are not necessary to work as support and dry construction can be carried out. Therefore this can largely reduce construction waste. Besides, the construction process can be over 6 times quicker than that using block wall, decreasing the project cost by 20%.
Good surface decoration performance: Due to the high flatness of the panel surface, it can be directly sprayed or pasted with wallpaper and wall tiles after seam filling.